<< Back to the October 2017 calendar.
Pop Up Pizza Night Out at the Farm
October 14th, 2017 4:30pm - 9:00pm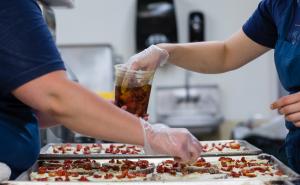 Guest Chefs, Josh, Christine and Becca, Sunday Dinner Club, Chicago, IL
Chef Josh's pizza obsession benefits us all. Sunday Dinner Club brings his beloved square-style pizza to Champaign for the finale of their 2017 series. We'll fire up the wood-fired grill and make pizzas on the farm! Toppings include local meats and cheeses, tomato sauce made from tomatoes grown at PFFC.
$40/person. Ticket price includes some light snacks upon arrival, a glass of paired wine, beer or a specialty themed cocktail, pizza, a fall side green salad, and tiramisu for dessert.
Seating is limited. We will have 2 Seatings: 4:30-6:30pm and 7-9pm.
For tickets to the FIRST SEATING: https://www.showclix.com/event/pop-up-pizza-night-out-at-the-farm-first-seating
For tickets to the SECOND SEATING: https://www.showclix.com/event/pop-up-pizza-night-out-second-seating